Bnei Akiva
Sydney Australia
What is Bnei Akiva?
What does Bnei Akiva Do?
Israel Programs
The Semel (Emblem)
Meetings
Upcoming Events
Bnei Akiva Sydney Celebrates 50 Years
Related Sites...
What is Bnei Akiva?
As the name translates - "the children of Akiva", the idea of Bnei Akiva relates directly to the story of Rabbi Akiva. At the age of 40 years old, after growing up tending flock, he changed his ways and decided that he needed to find out the essence of the Jewish faith. The story is told of how it happened: One day while attending to his flock, he noticed a rock onto which droplets of water kept dripping. He thought that if something as soft as water can penetrate this solid rock and cause it to erode, so can the Torah penetrate into me - a shepherd who at this time was solid in his ways. Thus we strive to be like Rabbi Akiva for his three qualities: (a) his love of Hashem, his devotion to the Torah and his ultimate death at Kiddush Hashem (having been killed by the Romans), (b) his love of Israel and his fight for its independence, (c) his love of labour and his respect for it, remembering always his early life.
Follow the views and ideals established by our mentor and founder - Rabbi Avraham Yitzchak Hacohen Kook, first Chief Rabbi of the State of Israel.
The largest Jewish youth movement in Australia and around the world.
The Anthem is "Yad Achim" - "the hand of brothers". It stresses the aims of the movement, which is also obvious in Bnei Akiva's slogan: "Am Yisrael b'Eretz Yisrael al pi Torat Yisrael" - "The Jewish Nation living in the Land of Israel according to the Torah of Israel".
Our objectives:
To educate Jewish youth with values of Torah Ve'Avodah - combining a deeply rooted association with Israel together with day-to-day life in accordance with traditional orthodox values.
To provide stimulating experiential and informal opportunities for encountering Judaism.
Jewish Continuity and leadership. Upon completing High School, members are encouraged to spend a year in Israel on organised learning and touring programs; the purpose - broadening their knowledge of Israel and developing their leadership skills. They return to Australia motivated and enthusiastic and ready to transmit this knowledge to younger members. Back to Top
What does Bnei Akiva do?
Wide ranging activities catering for children of all ages with varied interests.
Weekly meetings with a sound educational structure.
The older ages focus on an in depth understanding of Jewish and Zionist issues.
The younger ages focus on discovering a love for Judaism and Israel through fun experience.
Shiurim - opportunities for Jewish learning and selfgrowth weekly.
Shabbatonim - held 4 times a year to provide a meaningful Shabbat experience.
Biannual camps - a retreat away from the city for the enhancement of Jewish lifestyle, team spirit and outdoor life skills.
Minyan Lekeruv Levavot - The only Youth Minyan in Sydney conducting services every Shabbat and on all Jewish Festivals. It prides itself on the fact that it is the only service run by teenagers for teenagers. Everyone is welcome to attend and will immediately feel comfortable in the lively and friendly atmosphere, with singing as a integral part of the prayers. Shabbat services commence at 9:00am. Back to Top
Israel programs
Varied programs to Israel after high school catering for individual needs.
MTA - Focuses on Jewish textual learning within a Yeshiva environment, supplemented with Israeli experiences such as army, Kibbutz life, touring, seminars and a specific focus on Leadership Development.
MTA 98 have a web site.
Tafnit - For those who prefer a 'hands-on' Israel experience, with less time in Yeshiva and a greater focus in the other areas. Back to Top
The semel (emblem):
The emblem of Bnei Akiva is made up of a number of different objects each relating to a different aspect of the ideology. The farming utensils and the olive and wheat sheaves relate to the agricultural perspective of the ideology and the 2 tablets of stone in the centre relate to the Torah perspective. The two perspectives are united together by the ribbon which says Bnei Akiva on it - symbolising that the two aspects can only and must work hand-in-hand. The letters on the two tablets are a 'Taf' and an 'Ayin' standing for "Torah veAvoda" - "Torah and serving (either the land of Israel or the G-d of Israel)". Back to Top
Meeting Times:
Juniors
| | | |
| --- | --- | --- |
| Gurim | Year 3-4 | Sun 3-5pm |
| Nevatim | Year 5 | Sun 3-5pm |
| Nitzanim | Year 6 | Sun 3-5pm |
Intermediates
| | | |
| --- | --- | --- |
| Ma'alot | Year 7 | Shabbat afternoon |
| Ma'apilim | Year 8 | Shabbat afternoon |
Seniors
| | | |
| --- | --- | --- |
| Haroeh | Year 9 | Shabbat afternoon |
| Yechiam | Year 10 | Shabbat afternoon |
| Hatkuma | Year 11 | Shabbat afternoon |
| Neriah | Year 12 | Shabbat afternoon |
Back to Top
Past Events:
Junior Camp: 17 - 21 Dec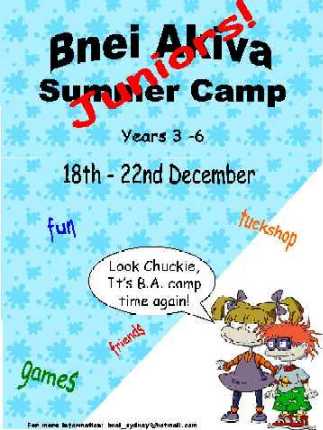 Senior Federal Camp (in Melbourne): 19 - 30 Dec

For any further info on any activities or programs, please email Bnei Akiva
Bnei Akiva Sydney Celebrates 50 Years

The Madrichim, Chanichim and Bogrim of Bnei Akiva Sydney gathered together on Sunday night 7 November, 1999 in the Gold Star Room of the Hakoah Club. The event also marked the official welcome of Avi Partouche and family - the newly appointed Bnei Akiva Sydney Shaliach.

The 50th Anniversary Photo Gallery
Other BNEI AKIVA Internet sites:

Ó02 February 2000
Created by Yakir Franklin